Here is a sampling of students' and clients' work that has reached publication and is available to the public:
Raising Will: Surviving the Brilliance and Blues of ADHD, by Katherine Quie
"Parenting kids with ADHD is a wild ride.  Luckily we have stories like Katherine Quie's Raising Will to be good company, offer useful survival techniques, and give us hope."
Questions About the Ride: Poems by Kristin Laurel
Kristin Laurel has been a nurse for nearly thirty years. Much of her writing explores the complexities of human experience in the raw. She owes her passion for poetry to The Loft Literary Center, where she completed a two-year apprenticeship. Her first book, Giving Them All Away, won the Sinclair Poetry Prize from Evening Street Press. Publications can be seen in CALYX, Chautauqua, Gravel, among others, and her poetry was recently featured on NPR. She and her spouse live in Waconia, MN and Asheville, NC. She is the mother of three twenty-something adults, two middle-aged dogs, and an old, mysterious cat.
German Awakening: Tales from an American Life, by Amy Hallberg
We all have blind spots. For Amy Hallberg, small town struggles and a passion for language led to retreat from American life. A brief 1987 exchange program in West Germany, including visits to both sides of the Berlin Wall, forever changed Amy's worldview. Through the eyes of her host family, Amy came to recognize Germany's past as a mirror on her homeland.
Two years later, the Wall fell and Reunification began.
As Frau Hallberg, Minnesota high school teacher, Amy spent the following decades unpacking German lessons on language, human nature, and — most importantly — herself.
I Will Not Break: A Memoir, by Judith Mattison
Judith Mattison had a conventional 1940s Midwestern childhood, followed by college, marriage, and children. Still, throughout her life, she was haunted by a mysterious terror of deer head hunting trophies. With the help of a therapist, she began to recover memories of severe abuse at the hands of her father.
Unearthing her repressed past, she learned that forgetting was how she coped as a child. Remembering as an adult broke her apart—and then put her together again. In the process she struggled to overcome shame and fear, to embrace anger, and to claim her truth.
A Gracious Heresy: The Queer Calling of an Unlikely Prophet, by Connie L. Tuttle
Take one wildly naïve, deeply flawed, completely unconventional woman and stir in God. Add to the mix that she is a lesbian, feminist, army brat, and single mom, and what you get is an earnestly radical Christian on a mission.
Her response to an insistent call to prophetic ministry is acutely human and terminally messy. Prone to veer off course, she wrestles angels who repeatedly return her to her trajectory. The prophetic ministry to which she is called ends up taking place in hundreds of small daily acts rather than the great act that she had hoped for.
Wings above the Sea: A story and images of loss and transformation, by Kyoko Katayama.
When Kyoko Katayama's husband was diagnosed with terminal cancer, with a help of an encouraging friend, she began painting her experience of accompanying the journey of her husband's last year, and what happened to her after his death. The images express shock, grief, and search for healing and depth of connection. In words as well, she describes her bewilderment and the pull towards mystery that came when she grasped the finality of his death. She went to the dark underside and surfaced, bearing the gifts of luminous wisdom and unbound love. This is small but a jewel of a book. Just holding it with its healing colors evokes a longing and hope for wholeness. Those who experienced profound loss will find kinship, solace and hope in her shimmering words and stunning images.
Mission Chechnya (Dr. Ann McLannley Global Health Books #2), by Therese Zink.
Dr. Ann McLannly's second international aid mission lands her in war-torn Chechnya. She is relieved to be doing humanitarian work again. However, safety and security quickly erode as the region slides into the Second Chechen War. Relief work comes to a standstill when the mission's director, Jeffrey Kent, is kidnapped. Ann remains in the region and her responsibilities morph into crisis management. The aid organization and the local team work numerous angles to secure Jeffrey's safe return. Identifying the good guys from the bad guys becomes even more complicated when Ann learns that the FSB (Federal Security Bureau–the modern KGB) is engaging her colleagues. She tries to avoid the whodunit, but as the possibilities become more convoluted she decides to get involved.
Unnatural: Spiritual Resiliency in Queer Christian Women, by Rachel Murr. Wipf and Stock, 2014.
As a freshman in college, Rachel Murr found herself trying to decide which campus social group to join: the gay and lesbian advocacy group or the campus Christian fellowship. She knew it couldn't be both. For the next fifteen years she held onto the belief that she couldn't be both gay and Christian. When the pain involved in trying not to be lesbian called for a change in theology, she came out to her evangelical church. Conflict ensued. Unnatural is a collection of stories–not only of the harm religiously-inspired negative messages about homosexuality inflict, but also of redemption. Rachel uses her own story as well as personal interviews with ten other queer women and one female-to-male transgender man to tell how they were judged, lectured, kicked out of homes and families, subjected to reparative therapies, and even assaulted. Some faced homelessness, depression, suicide attempts, and pervasive shame. Still, they fought to keep their faith alive. Each demonstrated an Unnatural ability to forgive, love, believe, advocate, and heal.
Dreaming Lessons: Recognize and Reach for Your Dreams, by Abby Bloom.
This is a book for anyone who has ever wanted to create a dream, big or little, and make that dream come true. Inside you will find: encouragement to dream and to weave dreaming into your everyday life, examples and stories to inspire you, writing exercises and activities to help you identify and explore your dreams, a realistic process for weighing the risks of following a dream, and a step-by-step guide to reaching your dream.
Deepening Engagement:  Essential Wisdom for Listening and Leading with Purpose, Meaning and Joy, by Diane Millis.  Skylight Paths, 2015.
A toolkit for leaders of all kinds and all levels of spiritual involvement—people of faith, people of no faith, spiritual but not religious—for deepening our engagement with our true selves, one another and the communities in which we live and work.
  Beautifully Sustainable, by Douglas Owens-Pike.  2015.
 Sometimes the transition to a sustainable world seems totally overwhelming to me. Where to begin? Owens-Pike gives us concrete steps to get rid of our lawns (and the high maintenance they require), reduce the amount of watering we must do, eliminate the need for pesticides, and create a delightful, restorative space. His goal is to free us to enjoy our landscape. This small handbook is the perfect tool to help you make your little plot of land into a carbon-free, chemical-free, beautiful zone. 
We'll Be The Last Ones To Let You Down:  Memoir of a Gravedigger's Daughter, by Rachael Hanel.  University of Minnesota Press, 2013.
For a kid who learned to read and do math by reading gravestones, real loss comes as a shock.  Hanel's quirky and poignant memoir explores the humor, silence, and denial one midwest family uses to confront death.
Choice passages of Hanel's story so affected me that my throat went sore swallowing grief. All the while, I had the sense of watching a determined child fall down, scrape her knee, and stand up, lip quivering, eyes glistening but resolute. —Nicole Helget, author of Summer of Ordinary Ways and The Turtle Catcher.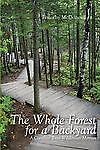 The Whole Forest for a Backyard:  A Gunflint Trail Wilderness Memoir, by Timothy McDonnell.  North Star Press, 2013.
Here is a rare glimpse into a childhood immersed in the north woods of Minnesota, and the profoundly joyful results of being raised among trees.  Too many memoirs of terrible childhoods getting you down?  McDonnell's story is the antidote.
". . . the work is all that a memoir should be—engaging from the start, evocative personal history that avoids treacly sentimentality, and chock full of anecdotes that touch one's heart and tickle one's funny bone . . ." —Linda Gunnarson, former editor for Sierra Club Books
Under the Bridge Backwards:  My Marriage, My Family, and Alzheimer's, by Barbara Blanche Roy.  7T Books, 2013.
Barbara Roy is a feisty, no-holds-barred narrator who looks with exquisite, probing detail at her not-so-smooth marriage and how her husband's Alzheimer's challenged her to love more deeply.  This book is a boon for caregivers, and a testament to the transformative power of commitment.
Warrior Mother:  A Memoir of Fierce Love, Unbearable Loss, and Rituals that Heal, by Sheila Collins.  She Writes Press, 2013.
People often talk metaphorically about dancing their way through life and death.  In Warrior Mother, Sheila Collins shows us literally what this means by dancing her way through her son's death from AIDS and her daughter's death from breast cancer.  "We have to make art out of what happens to us," writes Sheila K. Collins.  Warrior Mother is a testament to how art-making, done in a sacred context, can transform tremendous loss.  Collins reminds us of the endurance and healing power of love–especially a mother's love.
For Love of Lakes, by Darby Nelson.  Michigan State University Press, 2012.
For Love of Lakes weaves a delightful tapestry of history, science, emotion, and poetry for all who love lakes or enjoy nature writing. For Love of Lakes is an affectionate account documenting our species' long relationship with lakes — their glacial origins, Thoreau and his environmental message, and the major perceptual shifts and advances in our understanding of lake ecology. This is a necessary and thoughtful book that addresses the stewardship void while providing improved understanding of our most treasured natural feature.  A finalist for a Minnesota Book Award, 2012.
Thorns & Roses:  Lawyers Tell Their Pro Bono Stories, by Deborah Schmedemann.  Carolina Academic Press, 2010.
In Thorns and Roses, over a dozen lawyers tell their pro bono stories. The stories take place in children's court in the inner city, a prison in rural Alabama, a committee room on Capitol Hill, a transitional housing facility, and other places where American lawyers seek to aid those least favored in our society.  The legal issues reside in a wide range of courses in the law school curriculum, including torts, property, criminal law, family law, employment law, immigration law, and Indian law. Rich issues of professional responsibility arise throughout the book. Each story is followed by discussion questions drawing on the images in the story, its lessons about the law, and the always present question at a story's end—is this a happy ending?
Butterfly Song, by Evelyn Dahlke.  Plain View Press, 2007.
In this captivating account of her escape from more than 20 years of domestic abuse, Evelyn Dahlke captures the intricacies of how a woman can be induced into a world of abuse . . . how she can lose herself and so identify with her abuser that she colludes with him to protect the secret of the abuse. …In this deeply personal and moving book Evelyn Dahlke has woven her current thoughts, her journal entries from years ago, her own poetry and the poetry of others into a seamless tapestry of pain and growth.
Sunlight on My Shadow, by Judy Liautaud.
Judy writes a heart-wrenching but eerily common story of her teenage pregnancy, birth at a home for unwed mothers, and reconnection with her daughter.  She does a lovely job of portraying how secrecy and silence inflict deep wounds, and how open relationships heal.
On Island Time:  Wildlife, Windsleds, and a Wedding on Madeline Island, by Patricia Spaulding.
On Island Time is a wry and funny account of an apprenticeship in island living.   Think Under the Tuscan Sun set in the north woods where survival depends on learning how to fend off a charging bear, riding in an ingenious Madeline-made contraption called a windsled, and where the island hot spot is an open-air tent bar whose slogan is: "We cheat the other guy and pass the savings on to you."
Still a Minstrel, by Larry Suess.
Compellingly honest, entertaining, and inspiring, Still A Minstrel is Suess' account of key events that led him to become a psychologist and music therapist, as well as a musician and songwriter. Suess explores the power of music to forge connections by reminiscing about the escapades of his traveling rock band, his years as a jazz pianist presiding over a lively piano bar, and using music therapy as a psychologist to connect with a variety of hard-to-reach clients. He insightfully illustrates how science, culture, technology, and religion affect our response to music. Equally appealing to music fans, musicians and health professionals, Still A Minstrel is the joyous story of a musician and healer using his own gifts to help others find their paths in an often confusing world.
After the Murder of My Son, by Mary Rondeau Westra.
"It takes more than time to heal a broken heart." This chronicle of grief and healing, struggle and salvation…questions everything parents cherish—achievement, hopes for the future, forgiveness, faith, friendship— yet reinforces total and unending love. Readers will learn how a couple endures, how a family is threatened but grows tighter, and how friends can help.  The book itself heralds the triumph of the power of the human heart over tragedy.
Out of Denial:  Piecing Together a Fractured Life, by Robert K. Anderson.
Out of Denial is the memoir of a closeted gay married man who grew up in the conformist Fifties and got stuck in a maze of denial. It shows the toll this takes on him and those he loves, his struggle to break free and his eventual recovery of a lost boy and submerged self. With frankness, humor and hope, this story celebrates the odyssey of coming out and the release of new energy for love, friendship, spirituality and creativity. From the Foreword: "Some people talk of the need to save their souls. My soul saved me. This book is the story of that rescue."
Love's Sacrifice and the Ordeal to Become Human:  30 Years with my Spiritual Master, Adi Da, by Dennis Leroy Stilwell.
Love's Sacrifice and the Ordeal to Become Human is the extraordinary story of the relationship between Master and devotee; of the Master's instruction in the highest Spiritual Teaching of non-dualism and the devotee's struggle to bring that instruction into life. It is a story about the breaking down of religious idealism and the rise of the Spiritual reality; and about human loss and human growth.
Vigilante, by Jane Feely.  I coached Jane through the development of this book when she was fourteen!  She went on to self-publish through Amazon.
April Stone, a high-school junior, gets attacked by a bird. Except it wasn't a bird, it was a daemon. Or so say the crazy people who kidnapped her. They inform April that daemons are entering Earth through a rift between our world and theirs, and now, the only thing standing between humans and daemons are the Vigilantes: humans who have been infected with daemon magic. It quickly becomes apparent to April that the Vigilantes are a bunch of argumentative nutcases who like to blow stuff up and basically have no idea what the hell they're doing. But when it's clear her life is at stake, April has no choice but to become a Vigilante. As she works past her own fear and the layers of secrets that surround both the Vigilantes and the daemons, it starts to get difficult to tell who the good guys really are. If there even are any.
Short works:
"We'll Be the Last Ones to Let You Down," by Rachael Hanel, published in The Bellingham Review, spring 2007.
 Judged volumes:
Forgotten Roads, The Talking Stick Volume 19, published by the Jackpine Writer's Bloc.
Other work I've helped develop:
An oncologist's story
A Unitarian's journey to Christianity
A Zen Buddhist priest's story
Recovering addicts' memoirs
A child of a Holocaust survivor's story
Clergy narratives
A journey from Christian fundamentalism to Judaism to Hellenic paganism
A classic scholar's life story